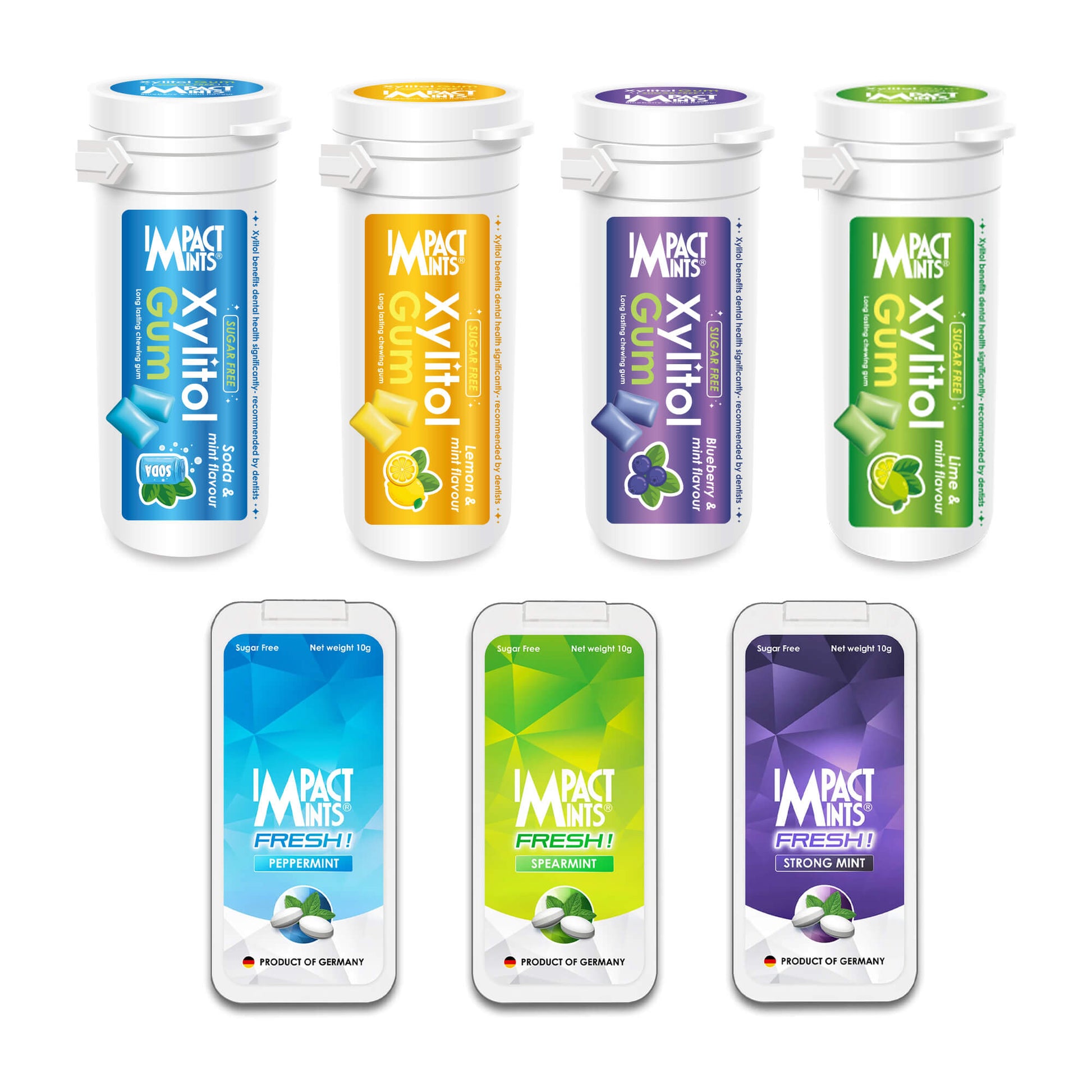 ASSORTED PACK OF 7 – XYLITOL GUM (LIME, LEMON, SODA & BLUEBERRY) + PEPPERMINT, SPEARMINT, & STRONG MINT 10g
Sale price
₹ 599.00
Regular price
₹ 650.00
Tax included.
Estimated Delivery:Sep 26 - Sep 30

Free Shipping & Returns: On all orders over ₹320
Free Gift: On all orders over ₹699
Payment Offers

Guarantee safe & secure checkout
ASSORTED PACK OF 7 – XYLITOL GUM (LIME, LEMON, SODA & BLUEBERRY) + PEPPERMINT, SPEARMINT, & STRONG MINT 10g
Sale price
₹ 599.00
Regular price
₹ 650.00
Product description
Shipping & Return
Product reviews
Introducing our extraordinary Assorted Pack of 7 - XYLITOL GUM (Lime, Lemon, Soda & Blueberry) + Peppermint, Spearmint, & Strong Mint! This remarkable assortment offers a diverse range of flavors that will delight your taste buds and provide you with a refreshing chewing experience like no other.
Inside this pack, you'll find a carefully curated selection of seven enticing gum and mint varieties, each designed to deliver a unique flavor profile that will keep your breath fresh and invigorate your senses. Let's explore the incredible assortment:
Lime Gum: Experience the tangy zest of Lime Gum. Bursting with vibrant lime flavor, this gum will awaken your taste buds and leave you feeling revitalized.

Lemon Gum: Indulge in the citrusy goodness of Lemon Gum. The refreshing lemon flavor offers a delightful burst of tanginess that will leave you feeling refreshed and rejuvenated.

Soda Gum: Quench your thirst with the effervescent delight of Soda Gum. This gum captures the fizzy essence of your favorite soda, providing a unique and exciting chewing experience.

Blueberry Gum: Savor the sweet allure of Blueberry Gum. With its luscious blueberry flavor, this gum offers a burst of fruity goodness that will satisfy your cravings and leave you wanting more.

Peppermint Gum: Immerse yourself in the classic coolness of Peppermint Gum. Known for its refreshing and invigorating properties, this gum delivers a brisk burst of minty freshness that will leave your breath feeling clean and your mouth feeling refreshed.

Spearmint Gum: Enjoy the soothing flavor of Spearmint Gum. With its mild and pleasant taste, this gum provides a refreshing experience that will leave you feeling uplifted and ready to take on the day.

Strong Mint Gum: Brace yourself for an intense blast of freshness with Strong Mint Gum. This gum packs a powerful punch of minty flavor that will awaken your senses and leave your breath smelling minty fresh.
What sets this assorted pack apart is the inclusion of xylitol, a natural sweetener that not only enhances the taste but also promotes dental health. Xylitol has been known to help prevent tooth decay by reducing the growth of harmful bacteria in the mouth.
Each gum in this assortment is conveniently packaged in a 10g pack, making it perfect for carrying with you on the go, sharing with friends, or simply enjoying a flavorful moment of refreshment whenever you desire.
Experience the extraordinary range of flavors with our Assorted Pack of 7 - XYLITOL GUM (Lime, Lemon, Soda & Blueberry) + Peppermint, Spearmint, & Strong Mint. Elevate your chewing experience with these tantalizing gums that combine freshness, flavor, and oral care in one delightful pack.
Indulge in the refreshing variety of our Assorted Pack of 7 - XYLITOL GUM. Order your pack today and embark on a journey of flavorful satisfaction!
Shipping Policy
Shipping cost is based on the cart's total value and your location. Just add products to your cart and use the Shipping Calculator to check the shipping price. Rest will remain the same.

Return/Refund Policy
We want you to be 100% satisfied with your purchase. Kindly view Refund Policy and Refund Policy.

Facing issues?
You can reach us at hello@impactmints.in or +91 74477 33388
Frequently Asked Question
Are the mints safe for kids?
Our mints are safe for 14+ year
What is the shelf life of these mints?
Impact mints have a shelf life of 2 years from the date of manufacturing.
Are the mints 100% Vegetarian?
Yes, our mints are 100% safe
What payment methods are available?
You can buy the mints though all the major Credit/Debit, UPI, Netbanking, Wallet, etc. We support Paytm, Google Pay, Phonepe, Simpl and more.
How to get Free Delivery?
Its easy, all you need to add the products to your cart more than ₹329
Are Impact mints gluten free?
Yes, all products of Impact mints are gluten free.
Are Impact mints GMO free?
Shipping cost is based on weight. Just add products to your cart and use the Shipping Calculator to see the shipping price.
We want you to be 100% satisfied with your purchase. Items can be returned or exchanged within 30 days of delivery.
Can I recycle the Impact mints' tins?
Yes, our tins can be recycled. We encourage our consumers to repurpose and eventually recycle the empty tins.
Perfect Beach
Combo
Get a refreshing burst of coolness that revitalizes your senses, leaving you feeling invigorated and fresh, no matter the heat.
SUMMER EDITION
Shop Now


"I love it as it has some coolness... Which makes my mouth fresh oh i just love it.."
⭐⭐⭐⭐⭐
- Ayesha
XYLITOL GUMS
Shop Now


"Must buy product, I really loved the taste and packaging was too good, worth purchasing."
⭐⭐⭐⭐⭐
- Bhavesh
FLAG TINS
Shop Now


"I love these limited edition mints definitely worth to collect."
⭐⭐⭐⭐⭐
- Sahil